Our Evergreen membership works similarly to our 100% Wind Energy program. We still match your usage with wind energy and the additional clean energy charge is still 1.5 c per kWh.
Because we do not manage your utility bill for you as an Evergreen member, your clean energy charge is based on your average kWh usage provided to us during signup, as opposed to your monthly usage. We will send you a monthly statement for just the clean energy charges, while you pay your utility directly for your utility charges. 

For example, if your average kWh usage is 500 kWh, you'll receive a separate statement from us for $7.50. Three days after you receive your statement, we'll automatically charge your preferred payment method on file. 
Why do I have to sign up for an Evergreen membership?
There are select utilities and billing situations that we are unable to fully integrate with at this time; keeping us from being able to offer a membership with full access to our suite of clean energy and savings programs. 
If you have a smaller utility, solar net metering, two-factor authentication, or certain billing arrangements in place with your utility, you may only be eligible for our Evergreen membership.
Completing your Evergreen signup
If you've entered your information and find that your utility is only eligible for our Evergreen membership, you can follow the steps below to complete your sign up. 
1. Select your monthly average kWh usage using the slider pictured below. If you don't know your average usage, you can find a guide on calculating your average usage here or estimate using the square footage of your home. Once you do, you'll see the monthly cost of enrollment on the left -hand side of your screen (1.5c per kWh).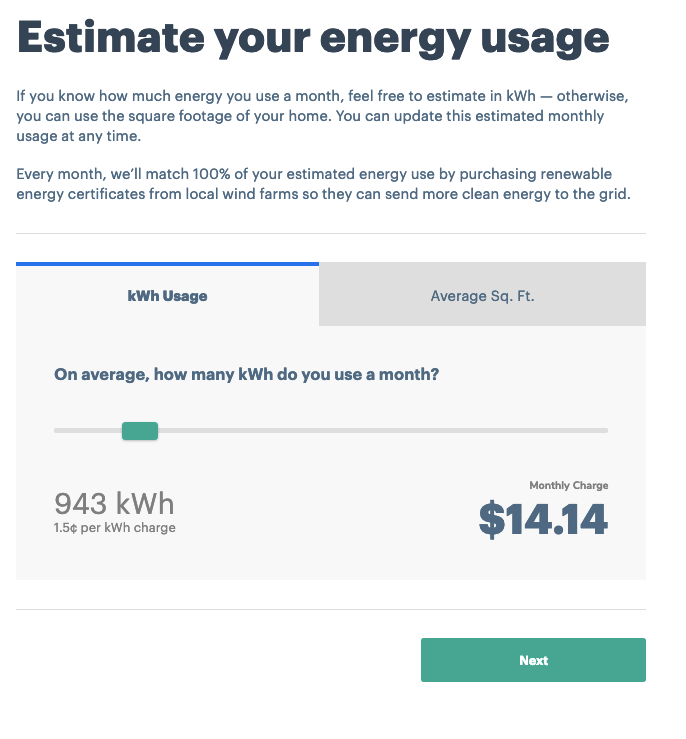 2. Enter a method of payment. You can sign up using a credit card, debit card, or checking account with no added fees. We accept Visa or Mastercard.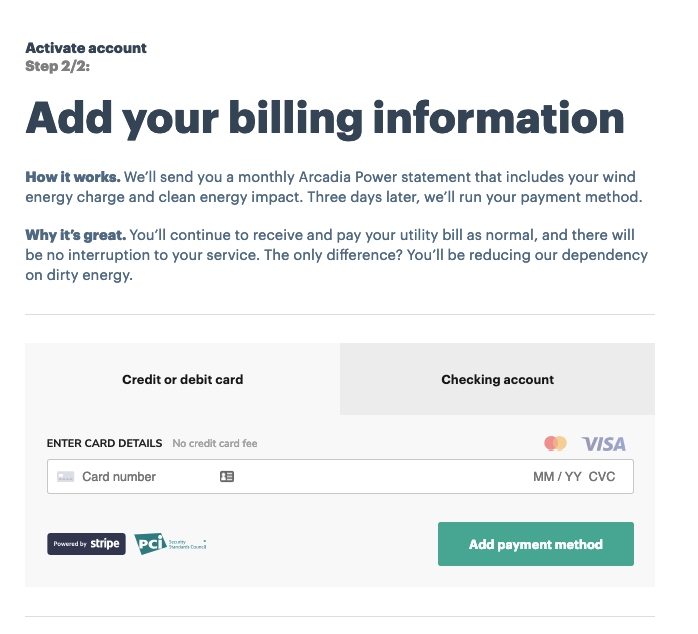 3. Once your sign up is complete, we'll send a confirmation email with important info. 

You can always update your average usage or billing date by emailing us at support@arcadiapower.com. 

Usted puede leer el artículo en español, haz clic aquí.