Note: This article is only for customers with Eversource WMECO who have set up Solar Only Invoices with Arcadia
Arcadia makes it easy for you to turn your power bill into clean energy. It's not magic (we wish!). Instead, we do it through community solar.
In community solar, you get credit for producing solar power when the solar panels are in a local solar farm rather than on your property. It makes solar power simpler and accessible to the millions of people who can't have rooftop solar panels.
The economics of community solar, explained
When you join community solar through Arcadia, we match you with a local solar farm. From that point on, part of your power bill gets repurposed to go to your community solar farm. The farm produces electricity, which means two things for you:
First, you get credit in the form of savings on your power bill. Even though the panels aren't on your roof or in your yard, you still get credit for the electricity they produce.
Second, you're helping put the clean energy from your solar farm into the power supply for local homes and businesses to use. More clean energy means less energy from fossil fuels, which means less carbon dioxide and other pollution being released into our atmosphere. It's one of the most direct ways you can help clean up your local energy grid.
Don't worry if all that sounds complicated. We take care of all the work for you, so you just get one simple statement from Arcadia while you pay your utility bills as you always have before.
How is My Bill Calculated with Community Solar?
Each Community Solar customer receives a portion of the savings generated by their local project. Once the projects start to generate energy, you will start to see those savings reflected on your utility bill.
Customers with Eversource keep no less than 10% of the solar savings generated for a term of 20 years.
You'll then receive a separate invoice from Arcadia for the 90% of the solar credits used to maintain and continue the project.
For Example: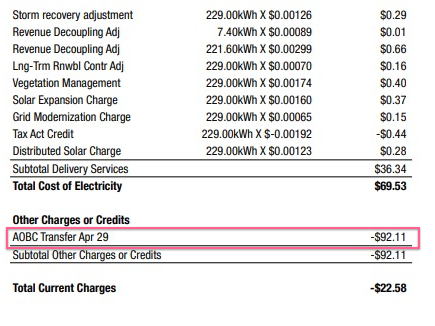 Total Solar Credit applied to your utility bill:

$92.11
You get to keep 10% of the $92.11 so $9.21 will be your savings for the month
Arcadia statement you receive: $92.11 - $9.21 = $82.90